2013: State Treasurer Nancy Kopp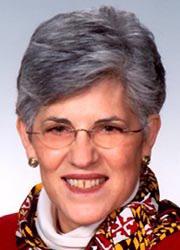 First elected by the Maryland General Assembly in 2002, Nancy K. Kopp is the 23rd Maryland State Treasurer since the adoption of the State Constitution of 1851. She is the second woman ever to serve as Maryland's State Treasurer and is currently the only woman serving Maryland in a Constitutional Office. In her role, Kopp holds several appointments in state government, including as a member of the Board of Public Works, serving alongside the Governor and Comptroller. Prior to her election as Treasurer, Kopp served 27 years representing District 16 of Montgomery County in the Maryland House of Delegates. A leading voice on educational issues, she was a key supporter of the reorganization of higher education in the state, which led to the University of Maryland's being named the state's flagship campus. Kopp's career of outstanding service to our state has earned her countless awards from organizations across Maryland.
Photo courtesy of Maryland State Archives.