2018: Senator Nancy King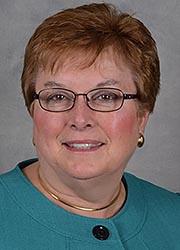 Senator Nancy King has demonstrated, for decades, a commitment to both K through 12 and higher education. She served eight years on the Montgomery County Board of Education prior to being elected to the House of Delegates representing District 39 and, since 2007, has served the same district in the Maryland Senate. Senator King has shown tremendous support for the University of Maryland through her work on the Budget and Taxation Committee and as chair of its Education, Business and Administration subcommittee. Her Senate colleagues recognized her service during the 2017 legislative session, presenting her the First Citizen award for outstanding public service. Senator King's outstanding service on behalf of our institution make her a dear friend of the University of Maryland and an honorary Terp.
Photo courtesy of Maryland State Archives.