2011: Lt. Governor Anthony Brown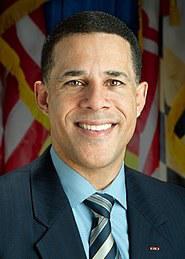 Lt. Governor Anthony G. Brown has a career deeply shaped by the value of service to others. After spending more than 25 years serving in the U.S. Army Reserve as an aviator and JAG officer, during which he was awarded the Legion of Merit and a Bronze Star, he was elected to the Maryland House of Delegates in 1998. Representing Prince George's County, home to the University of Maryland, Brown was quickly recognized for his leadership in the General Assembly, which has propelled him to serve two terms as Lt. Governor of the State alongside Governor Martin O'Malley. His service in that role has demonstrated a commitment to expanding and improving healthcare, spurring economic development, assisting domestic violence victims, providing support to veterans and increasing access to higher education.
Photo courtesy of Maryland State Archives.