2015: Delegate Adrienne A. Jones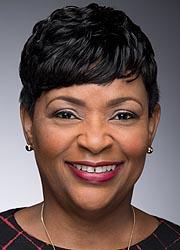 Delegate Adrienne A. Jones was born in Cowdensville, Maryland, a historic African American community located near Arbutus in Southwest Baltimore County. She attended Baltimore County Public Schools and received her Bachelor of Arts Degree in Psychology from the University of Maryland Baltimore County (UMBC) in 1976. She served as the first Executive Director of the Baltimore County Office of Fair Practices and Community Affairs and then as the Deputy Director of the Baltimore County Office of Human Resources until her retirement in 2014. Delegate Jones has been a member of the Maryland General Assembly since 1997, representing the 10th Legislative District of Baltimore County. In her twelfth term as Speaker Pro Tem in the Maryland House of Delegates, she holds the distinction of being the first African American woman to serve in this role. Her committee work includes service to the House Appropriations Committee and as Chair of the Capital Budget Subcommittee. Delegate Jones' outstanding service to Baltimore and our state is unmatched.
Photo courtesy of Maryland State Archives.