2019: Delegate Maggie McIntosh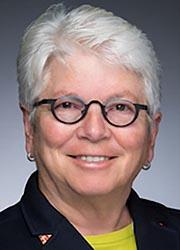 Delegate Maggie McIntosh is a former teacher in the Baltimore City Public Schools, as well as an adjunct professor at Catonsville Community College and the University of Baltimore. Prior to becoming a Delegate, she served as State Director and Campaign Manager for U.S. Senator Barbara Mikulski. She recently retired from her long-time position as an Associate for Federal Relations at Johns Hopkins University. First appointed to the House of Delegates in 1992, Maggie McIntosh has been a champion of higher education in Maryland for many years. In 2001, she was named House Majority Leader, the first woman in Maryland history to hold the post. From 2003 to 2014 she chaired the House Environmental Matters Committee and is now the Chair of the Appropriations Committee where she has worked tirelessly to ensure the continued success of the University of Maryland. Her outstanding service to higher education in our great state and the University of Maryland make her a proud honorary Terp.
Photo provided courtesy of Maryland State Archives.