2017: Congressman Steny H. Hoyer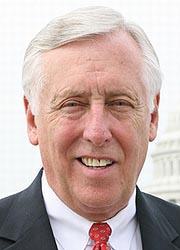 Since 1981, Congressman Steny Hoyer has represented Marylanders in the U.S. House of Representatives. In that body, he has served as House Majority Leader and as House Minority Whip, and, as of June 2007, is the longest-serving representative from Maryland in history. Prior to his Congressional service, Hoyer served 12 years in the Maryland Senate representing 26th District residents in Prince George's County, including three years as the youngest-ever Senate President in Maryland. He then became a member of the State Board of Higher Education for three years before being elected to Congress. Hoyer is a 1963 graduate of the University of Maryland and a diehard, lifelong Terp. Whether representing our student, faculty and staff in the federal legislature or cheering on the Terps, he has dedicated his career to outstanding service.
Photo courtesy of the Maryland State Archives.