2013: County Executive Rushern Baker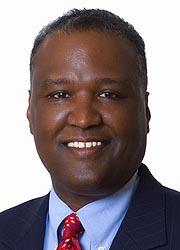 In 2010, Rushern L. Baker, III was elected the seventh County Executive of Prince George's County, the highest income African-American majority county in America, the second largest jurisdiction by population in the State of Maryland and home to the University of Maryland. He quickly earned a reputation as a collaborator, working closely with other state and regional leaders to pursue positive change, focusing on creating jobs, growing the economy, and improving public safety and education in the County. Baker's outstanding service includes notable accomplishments in stimulating local economic growth, raising the County's profile in the Washington, D.C., metropolitan region, and addressing healthcare disparities among its residents. He has demonstrated measured and accountable leadership in our community and, as both a legislator and County Executive, has shown tremendous commitment to the growth and prominence of the University of Maryland.
Photo courtesy of Maryland State Archives.